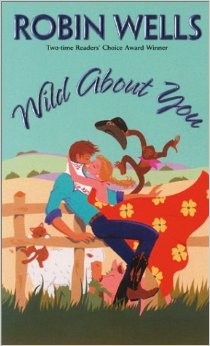 W here the Wild Things are…
Rand Adams didn't have time for monkeying around. All he wanted was a ranch where he could train world-class quarter horses, and the chance to lead an orderly, logical existence. But free-spirited Celeste Landry had moved in next door and opened the Wild Things Fun Farm: a children's petting zoo stocked with cast-off circus animals and misfit critters. Rand figured there was about to be a problem.
The two couldn't have been more different. Celeste believed in fate and destiny. Rand believed in self-determination. She thought him headstrong. He thought her a head case. But, somehow, after they shared one hot kiss, she was no longer driving him crazy; she was driving him wild. Rand found himself going ape. And there was only one path to true happiness: He had to stop beating his chest and start listening to his heart.
"I was with John for all the wrong reasons," Celeste admitted. "I wanted to belong to someone, to love someone and be loved back so badly…." She blew out a sigh. "I guess I deluded myself into thinking something was there that really wasn't."
"That's why decisions need to be based on logic," Rand said.
"All decisions?" she asked.
"Sure."
"Oh, come on. Some things just aren't logical."
Rand slanted a grin at her. "Like you?"
She rolled her eyes, then smiled back. "Yeah, like me."
"Okay, well, I admit that some things—" he shot her another teasing grin.
"—and some people aren't logical. But there's a logical response to everything."
"Oh, yeah?" Her eyes held a playful challenge.
"Yeah."
"So what's the logical response to this?" With a mischievous grin, she put her hands on his chest and pushed him backward.
"This." Grabbing her arms, he pulled her down on top of him. She laughed as she landed on his chest.
And then he heard her breath hitch. Or maybe it was his—because as he gazed into her face, a surge of desire kicked in, hard and fast and urgent. Her eyes were all smoky need, her lips a plump, parted invitation. His arms wound around her, and the next thing he knew, he'd pulled her down and covered her mouth with his.