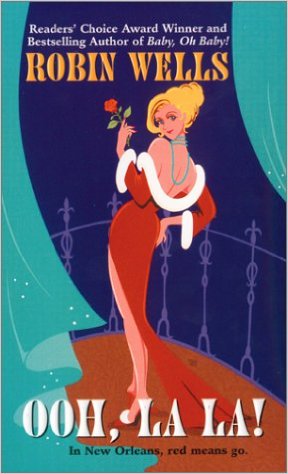 S he Believes in Everlasting Love
History professor and single mother Kate Matthews believes in love, marriage, and happily-ever after–she just doesn't believe they'll ever happen to her. She's had terrible luck with men and she's all but given up on romance. Her life has fallen into a predictable pattern of work, caring for an unruly 12-year-old daughter, and dealing with her neurotic, crime-obsessed mother. When she's offered the chance to serve as the historical consultant on a movie called "Ooh La La!" that's being shot in New Orleans, she jumps at the opportunity to impress her university's tenure committee and add a little excitement to her life.
He Believes in Expiration Dates
Hollywood movie director Zack Jackson knows the score. Everyone likes to throw fairy dust on the topics of love and romance, but the truth is, they're just gussied up business arrangements based on an equitable exchange of goods and services. All relationship fade and die. That's why he insists on setting an expiration date at the beginning of a love affair, so both parties can walk away before things turn sour.
The only thing that brings lasting satisfaction is making movies–but if Zack's next film isn't a hit, his career will be over. He's convinced that the true story of a prize fighter and a "sporting girl" in the Ooh La La Brothel of New Orleans in 1898 is just the ticket, but it needs some added fictional action to jazz things up. When a stubborn female history professor tries to make him stick to the facts, and just the facts, he's determined to do anything—including seducing her—to get his way.
Kate rubbed her temple where a headache was gathering, trying to gather her thoughts as well. Why would Zack think she'd change her mind? She'd told him that the movie had to be completely factual or she wouldn't work on it.
And then the events of the evening crashed down on her, thudding heavily into place. The warm, giddy sensation that had made the night seem magical degenerated into stomach-twisting nausea. How could she have been so stupid?
"She was right," she murmured.
"Who?"
"That woman with the car." She fixed Zack with an accusing gaze."I am drunk, aren't I?"
He shifted his stance and shoved his hand in his pocket, refusing to meet her gaze. "There's, um, no reason you should be."
Outrage flamed in Kate's chest. "Oh, yes, there is. You got me drunk sho you could make me shign this!" She waved the letter she'd found in front of him.
"Kate—it wasn't like that. I just wanted you to relax a little so we could discuss it. I never dreamed that one or two drinks would…"
Oh, dear Lord—that's what the kiss was about, too. Mortification flooded her soul. Mercifully, her sense of anger was stronger. "Everything about this evening was an attempt to get me to shign that letter.
"Wit, charm and a winning cast of characters make Robin Wells's latest (after Baby, Oh Baby!) an irresistible read." ~ Publishers Weekly
"OOH, LA, LA! lives up to its title as an exciting contemporary romance that enhances the plot with insight into the historical red light district of New Orleans. Robin Wells provides fans with an entertaining novel that is fun to read." ~ Harriet Klausner, The Best Reviews